16
« on: October 22, 2018, 05:25:13 AM »
Orange lead after Round 1 at Cowra, but good start to Bathurst's Central West title Defense:
As expected Orange Piranhas Triathlon Club have jumped to an early lead in the 2018/19 Central West Interclub Premierships after round 1 at Cowra. However defending Champions Bathurst where very impressive in the Outright results with 4 Athletes in the top 10 overall (North 1st Windsor 4th Gillmer 7th Walsh 9th) and 3 Male age group winners (North Windsor & Jackson) however the Piranhas dominance in the female categories again was very impressive with Orange boosting the top 5 fastest females and winning every female age division.
The Home town Cowra Club were the other surprises finishing 3rd on the day in the Team's Title infront of the Mudgee and Dubbo lead by new signing Michael Stallard who won his division and finished 4 overall.
Bathurst club officials are leaving no stone unturned, in their defence of Premiership Win over the powerful Orange club.
Recent initiative to encourage more Bathurst Females to take up triathlon has had instant success with new starter Jen Arnold finishing in the top 10 in her first Triathlon. In fact the Bathurst Female results at Cowra where the best at an inter club series for some time, with Arnold (2nd 30-39yrs) Candice Falconer (3rd 30-39yrs) Anna Blackett (4th 30-39yrs) . Jane Bennett (5th 40-49yrs) Fran Grady (2nd 50-59yrs) all scoring good series points for finishing in the top 5 in the age division.
Behind the 3 Age Division Winners for Bathurst (Nick North 20-29yrs, Mark Windsor 50-59yrs & Stephen Jackson (60+yrs) there were plenty of impressive age group performances by the Bathurst Men.
Mitch Nelson 5th and William Kelly & James Burt in the top 8 in the U20 category.
Bathurst strong in the 30-39 years with Luke Gillmer, Christopher Walsh, Andrew Paul and Dany Weal all in the top5. Plus Matt Press, Pat Dallimore, Richard Blackie & Gareth O'Rourke all breaking the 80min on the tough Cowra course
Bathurst had a number of strong performers in the 40-49 years led by Geoff Short in 7th followed by Jamie Rivett (8th), Luke Patterson (11th), Matt Hayes (12th), James Kelly (14th), Dean Porter (16th) and Peter Bennett (17th). While Chris Grady was one of Bathurst best performers finishing 2nd in the 60 plus Division.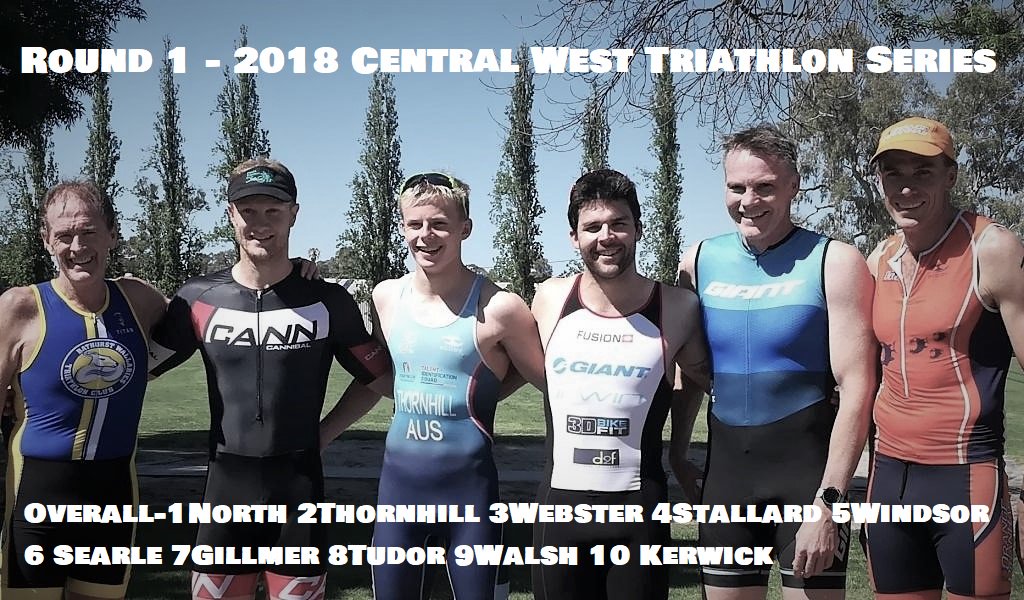 RESULTS - Cowra Triathlon - 21st Oct 2018
Club Premierships after Round 1:
Orange 5pts, Bathurst 4pts, Cowra 3pts, Mudgee 2pts and Dubbo 1pt
Age WinnersFemales
U20s – Lauren Kerwick (Orange)
20-29yrs – Amanda Livingstone (Orange)
30-39yrs – Jessica Richards (Orange)
40-49yrs – Estelle Dean (Orange)
50-59yrs – Julie Middleton (Orange)
60+yrs – Cas Ingham (Orange)
Males
U20s – Rory Thornhill (Orange)
20-29yrs – Nick North (Bathurst)
30-39yrs – Michael Stallard (Cowra)
40-49yrs – Matt Webster (Mudgee)
50-59yrs – Mark Windsor (Bathurst)
60+yrs – Stephen Jackson (Bathurst)